1974 Ford Mustang
"The top engine on the 1974 Mustang II was a 2.8-liter Cologne V-6, which was evil portent enough, but Ford's product planners still stuck with the Mach 1 tag. Thankfully they quickly realized the error of their ways and shoehorned a (strangled, but still real) V-8 in there. But it was done, and of such things are horrible reputations made."
1974 Ford Mustang II Mach I

1974 Ford Mustang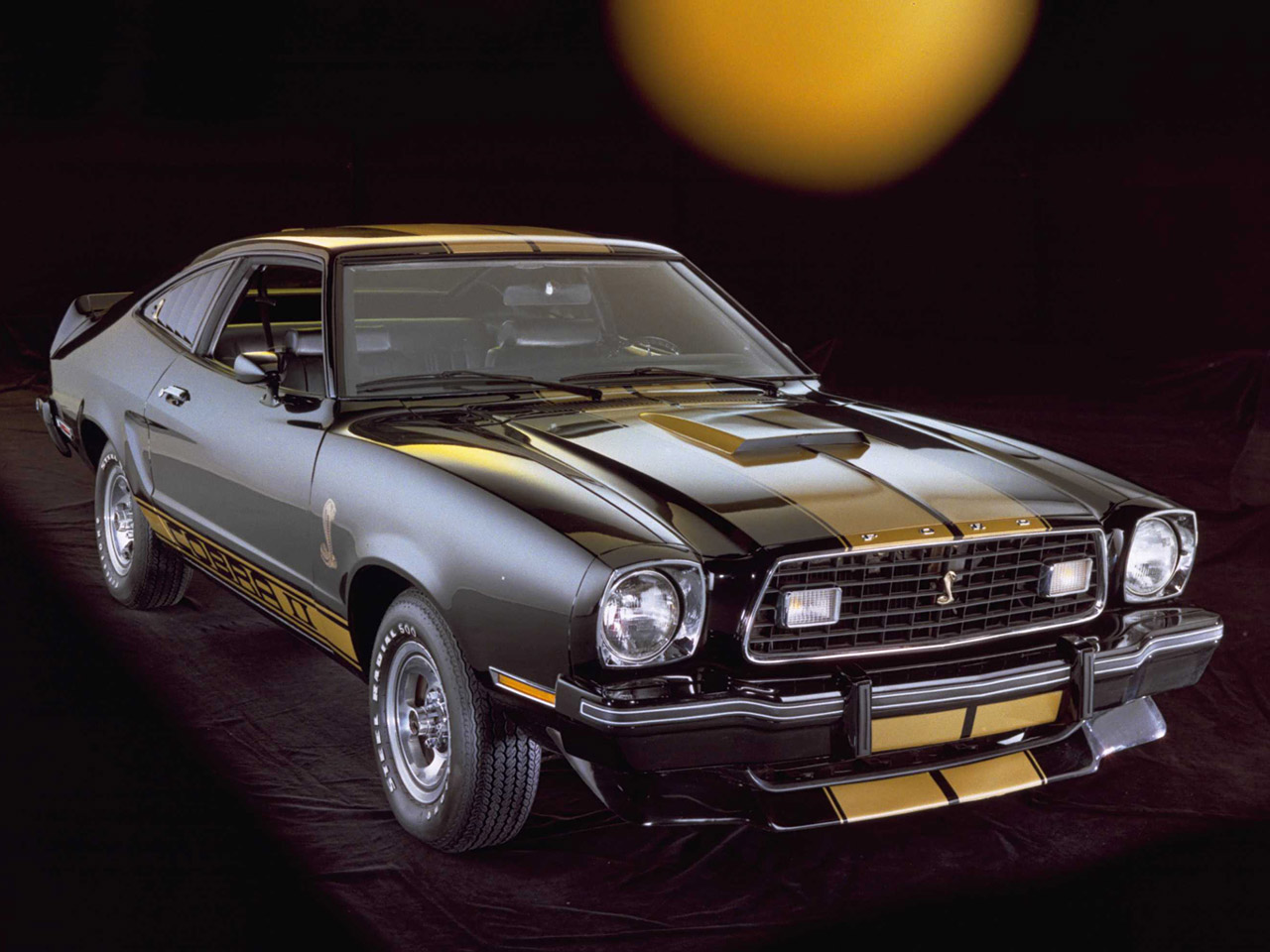 1974 Ford Mustang Cobra II
Lee Iacocca, brain behind both cars, stands with a Mustang II and a '65 hardtop (rear) in a press photo designed to drum up interest for the new car.
The 1974 Ford Mustang, a dramatically smaller, lighter design, marked a fresh start for America's original pony car. It was the brainchild of Lee Iacocca, who fathered the first Mustang a decade earlier. Appropriately named Mustang II, the car eventually would be seen as a low point in Mustang's proud history. But that's certainly not the way it started out.
Success often stems as much from common sense and dumb luck as from cleverness and hard work. The Mustang II is a case in point. As the smallest, lightest Mustang since the original, it was a fresh start for Ford's pony car and a refreshing return to rationality. And it couldn't have been better timed, introduced just two months before the first "Energy Crisis" upended America. People came in droves to see the Mustang II -- and to buy.
First-year sales were a smashing 385,993 cars, within 10 percent of the original Mustang's 12-month production record of 418,812. Of course, the Mustang II was in the works long before the Organization of Petroleum Exporting Countries (OPEC) decided to squeeze world oil supplies. That it appeared at virtually the same time was mere coincidence, though a lucky break for Ford.
In several ways, the Mustang II shows how history repeats itself in the automotive world. For starters, Lee Iaccoca just knew the market was ready for it in the same way he suspected the original Mustang was the right car for its time. Pony cars were falling from favor by 1970, with many buyers turning to lower-priced, fuel-efficient compacts like Ford's own Maverick -- a huge first-year success itself.
But Americans were also turning on to sporty 2+2 import coupes like Ford's own British/German Capri, which bowed in April 1970 to good reviews and strong initial demand. Another "captive import," GM's German-built Opel Manta, was selling well, and the Toyota Celica was more popular still. In 1965 such "mini-pony cars" attracted fewer than 100,000 sales, but by 1972 were up to around 300,000 -- and expected to go above 400,000 by '74. Mustang II's mission was to capture a big slice of this sizable new pie.Ford design vice president Eugene Bordinat gave full credit to Iacocca for the Mustang II: "He was the first guy to come along at Ford who had the feeling for cars that had existed in General Motors for some time." For his part, Iacocca observed: "When I look at the foreign-car market and see that one in five is a sporty car, I know something's happening. Look at what the Celica started to do before the two devaluations [of the dollar] nailed it! Anyone who decides to sit this out just ain't gonna dance!"But Ford didn't start out to start over. The Mustang II program actually dates from around the middle of 1969, when work began on what was then simply the next Mustang. With muscle-car mania still raging, first thoughts inevitably centered on larger, heavier-looking designs, reflecting Ford's belief that buyers would still want roomy, "impressive" pony cars in the mid-Seventies.In fact, early proposals were even more hulking than the '71 Mustang then nearing completion. But by the time Iacocca became Ford Motor Company president in 1970, the bottom had dropped out of the pony car market, and the imported Capri -- which Iacocca said was more like the original "than any Mustang we have today" -- was doing solid business at Lincoln-Mercury dealers.Iacocca had never liked Bunkie Knudsen's '71 Mustang, and it wasn't just because the man who backed it had been favored with the president's chair. Iacocca had been troubled by Mustang's course since 1966. He wasn't alone.As author Gary Witzenburg related, the grumbling had been going on at least since 1968. At that year's stockholders meeting, one Anna Muccioli, who owned a '65 Mustang, rose to ask Henry Ford II: "Why can't you just leave a small car small?…You keep blowing them up and starting another little one, blow that one up and start another one…Why don't you just leave them?"
Mustang II didn't start out as a much-smaller pony carbut as an even bigger next Mustang.
To her likely surprise, the chairman said he agreed. "Hopefully we will keep in mind what you say here and, hopefully, we will have a product that will be satisfactory to you."
In one nod to the past, Iacocca instituted an in-house design competition to develop the next Mustang.
An October 1970 idea for the Mustang II looked more mid-size than pony car. Covered rear wheels likely would have been rejected.
The 1974 Ford Mustang: Design Competition
In November 1969, less than two months after Henry Ford II fired Bunkie Knudsen as Ford president, new chief Lee Iacocca voiced his own concerns to a group of top-level Ford executives at the toney Greenbrier Resort in West Virginia.
According to author Gary Witzenburg, this meeting quickly led to "top-priority plans to build a new sporty small car for the 1974 model year based on…the Maverick shell. A second program, codenamed 'Arizona,' was to investigate an upmarket variation on the upcoming '71 Pinto subcompact for 1975."
Both programs were turned over to Nat Adamson, manager of advanced product planning, who recalled that the Maverick-based car, code named "Ohio," was initially favored. "The Maverick then seemed like a very small car to us," he told Witzenburg, "especially when we compared it to that year's much bigger and longer Mustang. And the Maverick was selling very well at the time."
But the smaller Arizona got priority when three concept models "tested" well against contemporary sports cars in two Southern California consumer showings. It was the first sign the public might go for something even smaller than the original Mustang.
The June 1969 "Apex" was one of the earliest attempts at a downsized Mustang.
But neither of these programs produced anything that satisfied Iacocca, design vice president Eugene Bordinat, or Advanced Design chief Don DeLaRossa. Ohio proposals ended up blowsy and staid, while initial Arizona designs looked like the restyled Pintos they were.
An Assist From Ghia
But then, in November 1970, Ford acquired a controlling interest in Ghia of Italy, and Iacocca wasted no time in asking the famed coachbuilder to submit concepts for his new small sporty car. With typical dispatch, Ghia sent over a running prototype in just 53 days, a sloped-nose red-and-black fastback that Iacocca himself drove to and from work.
It greatly accelerated the drive toward the eventual Mustang II. "Aside from the new slant on styling that it gave us," Iacocca said later, "the quick delivery of that real, live, drivable sample...coalesced our thinking and gave us something tangible to look at and argue about early in the game, an experience that I had never had before in my career in the company.... It was a great early boost for the whole program."
Several months later, Ghia offered a second running prototype, a trim notchback with an airy "pagoda" roof a la Mercedes SL and bodyside sculpturing like that of the first Mustang. This, too, would stimulate Dearborn design thinking.
Raising Arizona
Around July 1971, management decided to abandon the Ohio car and moved up Adamson's preferred Arizona to 1974. These were key decisions, because they effectively ruled out using Ford's long-serving inline six-cylinder engine.
Bordinat recalled that DeLaRossa "put his studio to work on a clay model showing how big the Mustang would have to be to accommodate that big I-6 engine. He got me to call Lee over for a look at it. Don became, shall we say, very forthright and told Lee that if we really wanted to make a smaller car, we had better start with a smaller engine because this one with this engine in it was getting bigger even before it was designed. Lee agreed with us and that was the end of the I-6. The next thing we heard was that the choice of engines would be a new small 2.3-liter four-cylinder and a larger-displacement version of the German Capri V-6, so we were able to get down to making the rest of the car smaller too."
Still, there was no early consensus on how much smaller the new Mustang should be, though it obviously had to shrink from 1971-73 size. There was also debate over whether to offer a notchback, a fastback, or a blend of both.
The second of two prototypes from Italian coachbuilder Ghia revived Mustang's original bodyside sculpturing.
In another echo of the original Mustang program, Iacocca staged an intramural design competition to get things rolling. "Lee thinks that pitting our guys against each other breeds our best stuff," Bordinat told Witzenburg. "I've tried to disagree with him, but every time we do it, we get an exceptionally good car."
This contest, begun in August 1971 and ultimately lasting three months, pitted the Ford and Lincoln-Mercury production studios against DeLaRossa's Advanced Design group and the Interior Studio under L. David Ash. Talk about "back to the future." Even many of the key players were the same as 10 years before.
This design competition was as heated as the first.
The September 1971 fastback that would become Mustang II wasn't Ghia's, but it showed the Italian coachbuilder's influence.
The 1974 Ford Mustang: The Winning Design
Ford President Lee Iacocca, looking to recapture the vibe of the first Ford Mustang for Mustang II, reinstituted the in-house design competition that produced the '65 model.
Once again, rival teams worked from an idea clearly defined by Iacocca: "The new Mustang must be small, with a wheelbase between 96 and 100 inches. It must be a sporty notchback and/or fastback coupe; the convertible is dead and can be forgotten. He'd later think otherwise at Chrysler. It must come as standard with a four-speed manual gearbox and a four-cylinder or small six-cylinder engine. Most important, it must be luxurious -- upholstered in quality materials and carefully built." At one point, Iacocca declared "the 1974 Mustang will have to be…a little jewel."
According to Ben Bidwell, then chief program product planner (he became Ford Division general manager in 1973 and was later Chrysler president under Iacocca), high quality was a must for Ford's president: "He will be out there in the showroom and he'll run his finger around the molding, and if it so much as scrapes him, some poor son of a gun will get it."
Of course, Iacocca also took a keen interest in Mustang II styling. As corporate planning chief Hal Sperlich recalled: "He was planning an entirely new kind of domestic car for a different kind of customer, so naturally he wanted it to look different from other cars on the market; different from the Mustangs of 1971, 1972, and 1973; different from the Pinto and different from the Capri, too."
All this ultimately came down to a late-November management review of five full-size clay models, one notchback and four fastbacks. The easy winner was a fastback from the Lincoln-Mercury group under Al Mueller. Like Joe Oros before him, he painted his clay -- in an eye-catching persimmon, not white -- so it would stand out and improve his team's chances.
As Mueller recalled for author Gary Witzenburg: "Mr. Iacocca's procedure at these showings usually is the same. He walks around the cars a few times and listens to the comments of others. Then he says exactly what he thinks -- either pro or con. He really flipped over our fastback. His cigar must have rolled around three times."
Lee Iacocca enthusiastically declared that Mustang II would "turn the small-car market on its ear".
But though surprisingly little altered for production, the design got mixed press reviews, and some critics felt that the notchback derived from it was a hodge-podge. The fastback was considered more handsome, though it wasn't a "classic" shape like the '65 Mustang. It was, however, more practical by dint of its European-style lift-up rear "door," a first for a Mustang and another boost for the popularity of hatchback body styles in America.
First-Class Cabin
Interior design was less debated, though no less involved. Forsaking usual design practice, studio chief Dave Ash decided to make his "seating buck" unusually realistic to convey a sense of being in a real automobile. He even attached exterior sheetmetal and four wheels.
"It was a time-consuming thing to build," he said later, "but it served its purpose very well. We didn't have to go through an elaborate series of meetings to determine everything. It was all approved right here. We were on a crash basis to get it done, and it was very enthusiastically received."
Ash later confessed that his team was partly inspired by the likes of Jaguar, Rolls-Royce, and Mercedes. "We put everything in that we could conceive of that connotes restrained elegance, plus the get-up-and-go that says Mustang -- something of a fire breather.... It's a kind of a mini T-Bird."
The posh Ghia interior, with its wood-tone dash accents and luxury carpeting, fit with Iacocca's vision of Mustang II as "a little jewel".
Unlike the massive, heavily sculptured twin-cowl instrument panels of 1969-73, the Mustang II panel was dominated by a simple large oblong directly ahead of the driver. This put all controls close at hand, yet still had room for all necessary warning lights and instruments. Surprisingly, the latter included a standard tachometer, temperature gauge, and ammeter.
Seats were initially covered in pleated cloth, vinyl, or optional leather -- unusually plush for a small car. They had no rake adjustment, cited as a literal sore point by some road-testers, but were definitely more comfortable than previous Mustang seats.
Rear legroom was limited, but the new car was seen as being used primarily by one or two adults who would sit in the front. Back-seat room would be sufficient only for a couple of small children or for an adult passenger to be comfortable for a short time. Another echo of Ford's first pony car.
The winning design was a fastback, but two body styles would be offered.
The trim Anaheim prototype convinced Ford president Lee Iacocca to offer a notchback body style as well as a fastback.
The 1974 Ford Mustang: Notchback by Default
How the notchback version of the 1974 Ford Mustang came into being is in fact an interesting lesson in corporate decision-making, and in the challenges facing those who have to execute those decisions.
The notchback concept shown at a November 1971 executive review of design concepts, submitted by Advanced Design chief Don DeLaRossa's troops, had been nicknamed "Anaheim" after it bombed at a September consumer clinic in Disneyland's hometown.
But Iacocca, suspecting researchers had missed something, decided to give it one last chance at a San Francisco session in February 1972. Reaction was positive, so it was decided to do a "trunked" version of the approved fastback -- this with barely 16 months left before production was scheduled to start. "It seems we go through that with every Mustang program," said Jack Telnack, who later replaced Eugene Bordinat as company design chief. "We always start with the fastback.... Then we find out the surveys still say fifty-fifty [preference] and we have to add the notchback."
But Iacocca liked the idea of a notchback better than he liked the Anaheim concept, and that specific model was turned down.
DeLaRossa long maintained the Anaheim should have been chosen as the theme model. As he later told author Gary Witzenburg: "If we wanted to design a modern second generation of Mustangs, why not recapture some of the flavor of the famous original model of 1965? That was a notchback. The fastback Mustangs were offshoots that came in later." He could have added that the notchback had always outsold the fastback, something that may have occurred to Iacocca too.
In any case, Iacocca certainly knew the sales necessity of having two body types, and he'd liked the Anaheim from the first, though maybe not as much as the Mueller fastback. Interestingly, Ford also investigated a cut-down two-seat fastback in February '72, but it was never seriously in the running.
DeLaRossa recalled that, "When we started the Mustang II, I said to Lee Iacocca that we should not forget the original Mustang was a notchback -- that was followed with a fastback -- so let's not do a fastback first. Let's do the notchback first. My recollection is that that made sense to him. So I got to work on a notchback right away at Ghia, and a version of it in Dearborn.
Iacocca told design exec Don DeLaRossa that the Anaheim concept was too much of a departure from the Mustang.
"When Lee saw the Anaheim," DeLaRossa continued, "he said to me, 'It's terrific, but it doesn't have enough 'Mustang' in it. It's almost like it's too modern, too much of a departure.' And much to my chagrin, there was a young designer, Fritz Mayhew, who embarks on doing a fastback.
"It was very attractive. And damned if Lee didn't buy it. A 180 degrees from what we had talked about. So then all hell broke loose trying to make a notchback out of that car. There was no way, and that accounts for the strange look of the Mustang II notchback. It never looked right. The C-pillar looked like a tree trunk growing out of the quarter panel.
"The Mustang II was a mild success and just hung around," DeLaRossa concluded. "I had trouble adjusting to that. I think the car I did would have been gangbusters, but that's life in the creative business."
When it hit showrooms, the 1974 Mustang was noticeably smaller than its predecessor.
A "mouthy" grille, C-shaped side sculpturing, and other elements linked the new Mustang II fastback to the '65 original.
The 1974 Ford Mustang
Though it retained the signature long-hood/short-deck proportions, Mustang II was visibly smaller than the original. The real target was sporty import coupes. Against the '65 it was nearly six inches shorter in wheelbase (at 94.2 inches), 6.6 inches shorter overall (at 175.0), two inches slimmer (68.2), and 1.1 inches lower (49.9).
There were dramatic differences against the bulky 1971-73 models, the II being some 20 inches shorter overall, nearly 13 inches trimmer between wheel centers, four inches narrower, an inch lower, and -- the important part -- lighter by a whopping 400-500 pounds. The increasingly popular Toyota Celica had a 1.3-inch longer wheelbase than Mustang II but was 11.1 inches shorter, 5.2 inches slimmer, and 2.5 inches taller.
To prepare the public for Mustang II, Ford ran up a lightly disguised concept version as a 1973 auto-show attraction. Called Sportiva II, it was essentially the production car recast as a "targa" convertible, with a fixed rollover bar between removable roof sections. It would have been a great showroom lure, but the ragtop market had collapsed and Iacocca had ruled out a new open Mustang -- another break with the past.
Note the new "cantering" horse logo alongside the Ghia notchback in this Mustang II brochure.
This left a base-trim notchback and fastback, a sportier Mach 1 fastback, and a vinyl-topped Ghia coupe, replacing Grande as the luxury model. All were fixed-pillar styles, not pillarless designs. Fastbacks offered flip-out rear-quarter windows as a $29 option.
Not Just a Sporty Pinto
At announcement time, some observers suggested Mustang II was just a sportier Pinto. Of course, that was how it started. And sure enough, a good many components were shared. Even wheelbase was the same.
But the Pinto was actually upgraded for '74 to take advantage of components and features designed for Mustang II. For example, both models employed unit construction -- another first for the pony car -- and shared a basic coil-spring front suspension with unequal-length upper and lower arms.
For the Mustang, however, the lower arms as well as the drivetrain were cradled by a U-shaped rubber-mounted subframe; the Pinto's front suspension bolted directly to the main structure. The subframe, a brainstorm from program engineers Bob Negstad and Jim Kennedy, greatly reduced road shock and driveline vibration reaching the cabin. It also contributed to more precise steering and a smoother ride versus the Pinto.
Stingy company accountants approved the added expense in light of the Mustang's planned higher selling price. Witzenburg notes the "toilet seat" (as the subframe was known internally) "came to be regarded as the single most important component of the Mustang II chassis."
The Sportiva II concept previewed the Mustang II at 1973 auto shows, but in a "targa" convertible style that would not see production.
There were other differences, too. For example, Mustang II shared the Pinto's rack-and-pinion steering but mounted it differently, again to minimize shock, and offered optional power assist (which Pinto did not at the time). At the rear, Mustang leaf springs were two inches longer than Pinto's, and shock absorbers were staggered as in previous high-performance Mustangs.
Spring rates were computer-calculated to match each particular car's equipment and weight. The Ghia notchback, for example, came with very soft settings, while the optional competition suspension had the stiffest springs, along with a thicker front antiroll bar, a rear bar, and Gabriel adjustable shock absorbers.
The 1974 Mustang was available with V-6 or four-cylinder power.
No V-8 was offered on the initial 1974 Ford Mustang.
1974 Ford Mustang Engines and Options
Ford President Lee Iacocca masterminded the Mustang II, creating a smaller, more fuel-efficient car to compete with sporty imports. Iacocca had eliminated the straight-line six-cylinder engine in favor of a more compact V-6, and per his edict, engineers gave no thought to providing a V-8 engine, a break with Mustang tradition -- and something Ford would soon regret.
Initial engine choices comprised a new 2.3-liter (140-cubic-inch) single-overhead-cam inline four-cylinder and a 2.8-liter enlargement of the Capri's overhead-valve V-6. The four, sometimes called the "Lima" engine after the Lima, Ohio, plant that supplied it, was the first American-built engine designed to metric dimensions. That wasn't surprising. Originally slated for some of Ford's larger European cars, it was actually a bored-and-stroked version of the Pinto 2.0-liter.
A novel feature was "monolithic engine timing." After each engine was assembled, an electronic device hooked to a computer was connected to two engine sensors, an indicator point at the rear of the crankshaft and an electrical terminal between the distributor and coil. The computer compared readings from each sensor, then set timing automatically by means of a distributor adjustment. The computer's high degree of precision made this technique very useful for meeting increasingly tough emission standards.
The V-6 was basically the same engine offered in U.S.-market Capris from 1972. It used the same camshaft, valvetrain, pushrods, and distributor as its European parent but was bored and stroked for American service, capacity increasing from 2.6 liters (155 cid) to 2.8 (171 cid). At the same time, Ford switched from siamesed to separate exhaust ports for improved performance and thermal efficiency.
Supplied only with dual exhausts, the V-6 was optional for any Mustang II save the Mach 1 hatchback, where it was standard. Like early 2.0-liter Pinto fours, it was imported from Ford's West German subsidiary in Cologne.
Mustang II offered four basic models, shown here as pictured on the back cover of the 1974 sales brochure.
The Mustang II's standard four-speed gearbox was basically the four-speed unit from the British Ford Cortina as used in the Pinto but strengthened to handle the Mustang's more powerful engines. Of course, SelectShift Cruise-O-Matic was available (at $212). Brakes were usefully upgraded to standard 9.3-inch front discs and 9 x 1.75-inch rear drums.
Predictably, most Mustang IIs exhibited "American" ride and handling characteristics. The Mach 1 was both more capable and entertaining with its standard V-6 ($299 extra on other models), but no '74 Mustang II was Sixties speedy. The car was heavy for its size (curb weight was a porky 2650-2900 pounds), so a V-6 with four-speed would do 0-60 mph in a lackluster 13-14 seconds and reach only about 100 mph, a far cry from the Boss and big-block days.
As if to signal the reduced performance, the trademark running-horse emblem became a less muscular steed that seemed to be cantering. It was created by interior designer Charles Keresztes, inspired by the work of noted Western artist Frederic Remington.
Less for More?
Despite its terrific first-year sales (and winning Motor Trend's 1974 "Car of the Year" award), the Mustang II wasn't an instant hit. With the economy still beset by "stagflation," early buyers favored low-priced models with few frills, whereas Ford production planning had assumed just the opposite.
Demand picked up pace once the oil embargo hit and long lines formed at gas pumps. Ford fast adjusted the model mix, but some sales were probably lost anyway because Mustang II looked to some people like less car for more money.
The price escalation was certainly dramatic, even allowing for the "little jewel's" extra standard equipment. The base coupe started the year at $3081, up $321 from its '73 counterpart -- which came with a six-cylinder engine, not a four. The fastback was up $455 to $3275, the $3427 Ghia was $481 costlier than the last Grande, and the V-6 Mach 1, at $3621, was up $533 from its V-8 predecessor. Though prices would go even higher, sales held up quite well through end-of-the-line '78.
envisioned a luxury fastback with Ghia-level appointments.
Options were fewer than in recent years, but more than sufficient. Besides air conditioning ($383) and various radios and tape players, the '74 list showed power steering ($106), power brakes ($45), tilt/takeout sunroof ($149), antitheft alarm ($75), console ($43), electric rear-window defroster ($59), rocker-panel trim, protective bodyside moldings, fold-down rear seat ($61), and "Glamour Paint."
A $100 Luxury Interior Group for base cars and Mach 1 delivered most of the Ghia's upscale appointments; its extra noise insulation was available for other models in a "Super Sound" package ($22). All models offered a Convenience Group (dual door mirrors and such), a Light Group (courtesy lamps and extra warning lights), and a new Maintenance Group ($44) with a shop manual, basic tools, fire extinguisher, and other items for roadside emergencies.
Tempting enthusiasts were Traction-Lok differential ($45) and the comp suspension (only $37) with adjustable shock absorbers, wider tires, and rear antiroll bar. These items were also part of a V-6 Rallye Package along with heavy-duty cooling, chrome exhaust tips, raised-white-letter tires on styled-steel wheels, twin remote-adjustable door mirrors, leather-rim steering wheel, and quartz digital clock.
The biggest option for 1975 was the return of the V-8 engine.
Source: howstuffworks.com