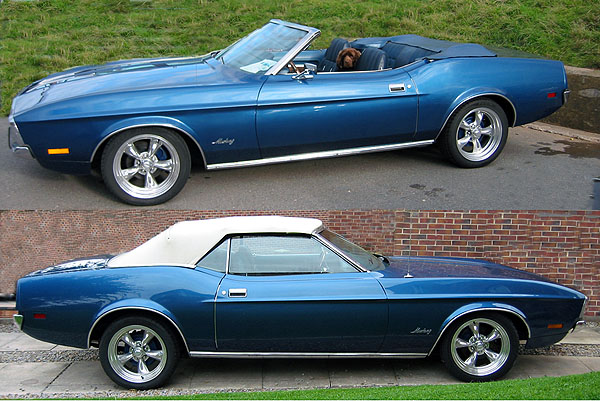 1972 Ford Mustang Base Convertible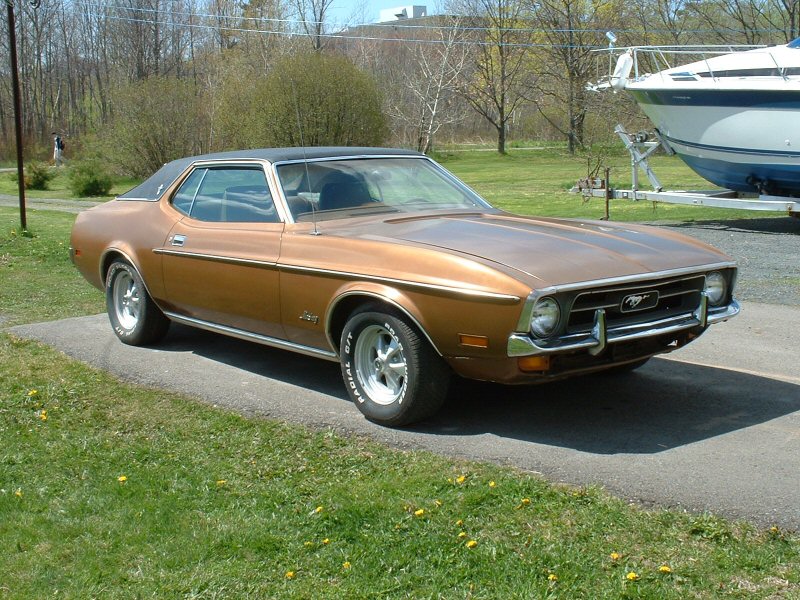 1972 Ford Mustang Grande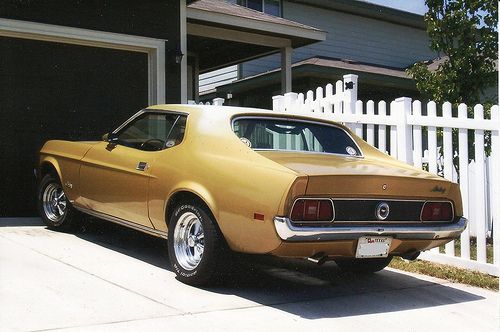 1972 Ford Mustang Base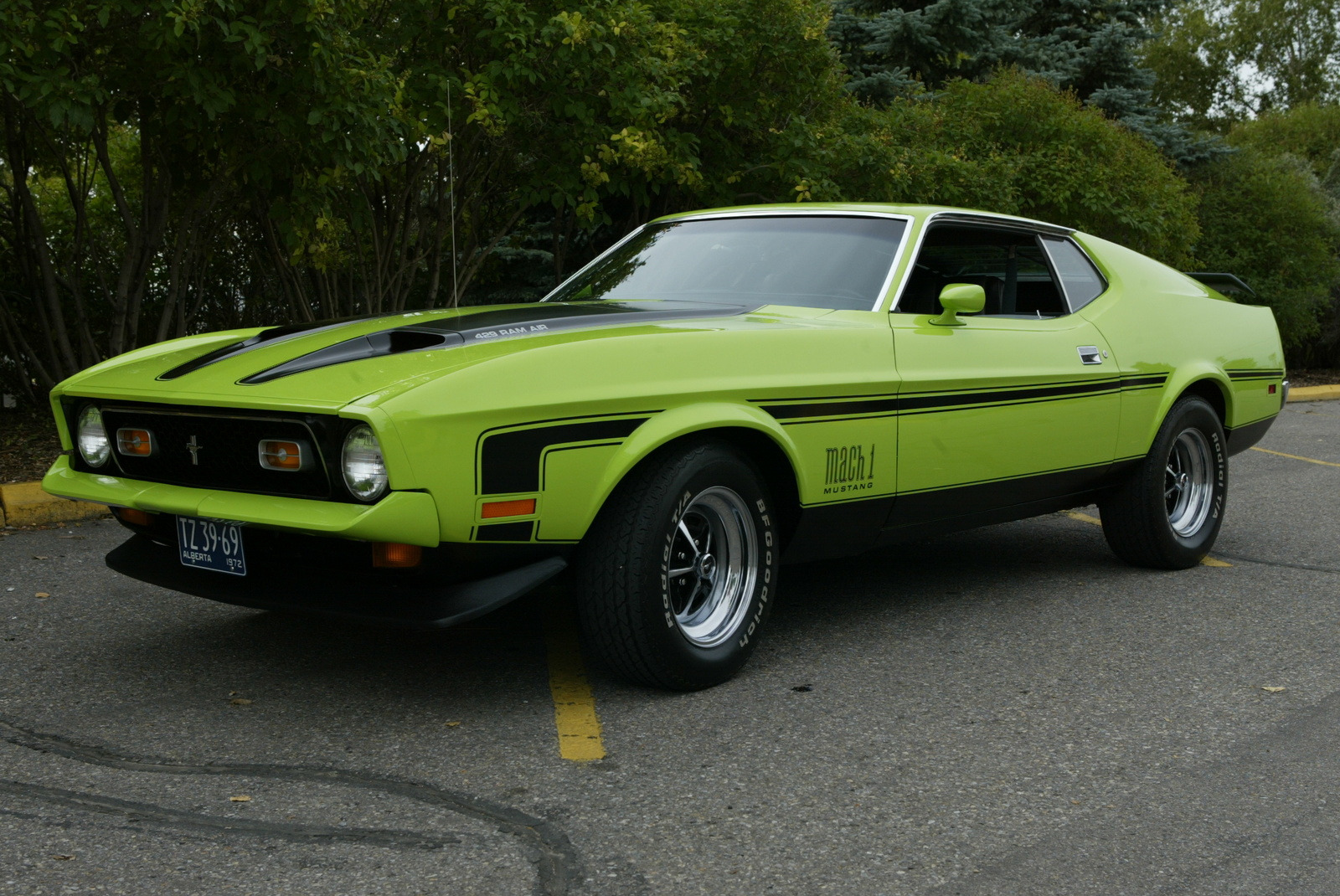 1972 Ford Mustang Mach 1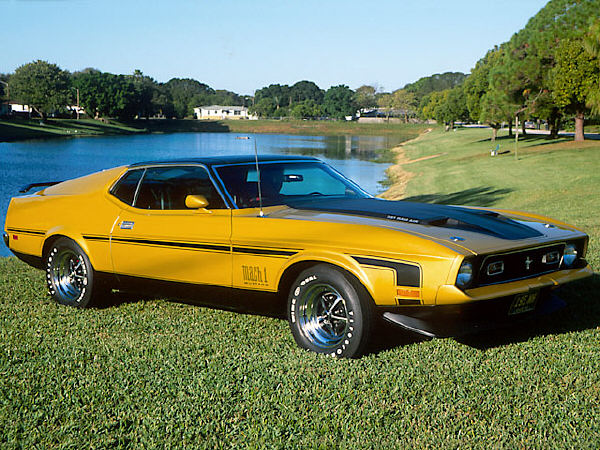 1972 Ford Mustang Mach 1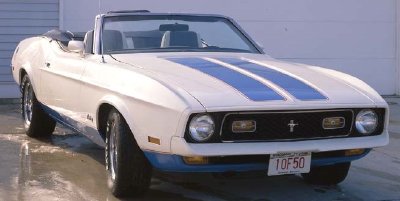 1972 Ford Mustang Base Convertible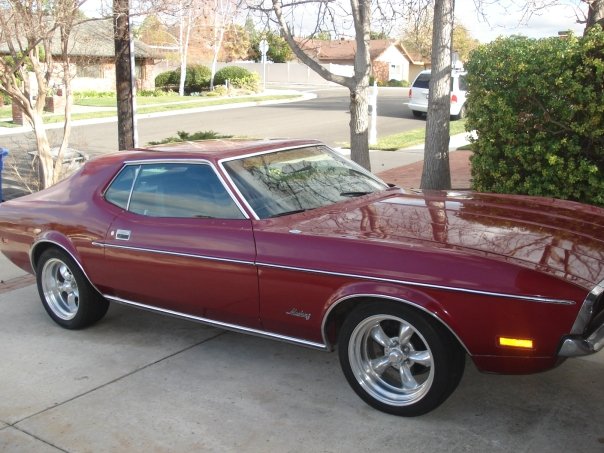 1972 Ford Mustang Sprint
Here at RK Motors Charlotte we sell the world's coolest collector cars seven days a week. But every now and then we still find something that 1) we've never had before, and 2) is so unique it'd just be a blast to own. That's exactly what came to mind when we first saw this awesome 1972 Ford Mustang Sprint.
Designed to commemorate the United States' participation in the 1972 Summer Olympics, this one-year-only pony car wears a Mach 1 grille, color-keyed body accessories, a color-keyed interior, and patriotic stripes and decals. What's better? In addition to its exclusive aesthetic appeal, this aggressive Ford also features an original 351/4-speed drivetrain, a first class, frame-up restoration and an absolutely spectacular $23K base price! If hitting the highway in a rare edition of one of Detroit's final muscle cars sounds like your idea of good vibes and great times, this killer '72 Mustang is the your steal of the century!
According to the fresh Marti Auto Works report that's included with the sale of this stellar pony car, it was assembled on March 6th, 1972 in Dearborn, Michigan with the following door data and options:
DOOR PLATE
:
2 - 1972 model year
F - Assembled in Dearborn, Michigan
02 – Mustang Sportsroof
Q - 351-4V CJ engine
74,943rd Mustang scheduled for production at Ford's Dearborn assembly plant
03/72 - Assembled in March of 1972
63D – Mustang Sportsroof
9A – White Paint: Ford #1619-A
HB – Bright Blue Lambeth cloth & White Corinthian vinyl bucket seats
9 – 3.25 conventional rear axle
5 – 4-speed manual transmission
72 – San Jose ordering district
72C206 – Dealer number
OPTIONS
:
Sprint special value package B
NOX emission system
4-speed manual transmission
F60x15 belted raised white letter tires
Power steering
Power front disc brakes
Selectaire air conditioner
AM radio
Décor group
Color-keyed racing mirrors
Complete tinted glass
Magnum 500 chrome wheels
Competition suspension
A pristine white basecoat seems to be the prototypical starting point for most patriotic paint themes, and this Mustang's liquid-smooth urethane is so clean it could make an FBI interrogator giddy. Of course, that mirror-like finish does cover an exceptionally maintained California body that spent the first 30 years of its life in the hands of one owner. And when that paint and this body are combined, the result is one solid and straight Sportsroof that manages to be dramatic without even trying. We all know a pony car just isn't a pony car without stripes and, in this Ford's case, war paint comes in the form of two blue and red rally decals that occupy the center of its hood. When those decals are combined with painted blue rockers, red outlining stripes, a couple of traditional USA quarter stickers, and a painted blue rear valence, this coupe starts to look official enough to be the president's weekend getaway vehicle. Ultimately, what it all boils down to is one great looking Sprint that likely didn't see much use at all and, since its restoration, likely hasn't been outside of a garage for more than a few hours at a time.
For the 1971-73 model years former GM executive Bunkie Knudson, now the leader of Ford's product design, wanted to take the Mustang into a bigger, heavier and more luxurious playing field. The idea was to cash in on the burgeoning large luxury coupe market; and not only did the Mustang grow, it also received styling cues which exaggerated both its length and weight. At the front of the car prominent, silver-trimmed sportlights and inset, crystal clear headlights combine with a traditional galloping horse emblem, a traditional stainless corral and a color-keyed urethane bumper to provide a clean and solid face. Sprinkled down the car's fuselage you'll find new marker lights, excellent looking flush-fit door handles, fresh "Mustang" fender scripts and body-matched racing mirrors which add character to an otherwise monochromatic profile. At the top of that profile factory-tint glass, which is framed by bright stainless trim, highlights both the car's ridged fenders and dramatic roofline. And at the back of that dramatic roofline, a jewel-like fuel filler and traditional Mustang tail lights ride between a fresh chrome bumper and a third "Mustang" script.
Fortunately this all-American blue oval is a lot more than just a pretty body. Under the car's 'long and low' hood you'll find an original 351 cubic inch Cobra Jet V8 which has been completely rebuilt to its correct factory specifications. As one of the most popular pony car mills ever created, Ford's venerable Q-code Cleveland utilizes high performance heads, smooth hydraulic lifters and a high-lift/long-duration cam to turn stout 10.7 to 1 compression into a solid 266 horsepower. At the top of the engine, a 4-barrel Holley carburetor sits under a restored single snorkel air cleaner that features a bright chrome lid and factory fresh decals. Below that carburetor "Powered By Ford" valve covers hang at the sides of an original cast iron intake which holds a correct black coil next to a traditional points distributor and fresh Ultimate Heat Protection wires. Below those valve covers, fully restored exhaust manifolds funnel spent gases into high performance true dual pipes. And in front of those manifolds, a correctly decaled radiator cycles water through pliable Motorcraft hoses and reproduction tower clamps. As you can see, the car's spotless engine bay has been properly sprayed in a smooth coat of satin black paint. All its correct ancillary components, from the fresh power brake booster and Motorcraft voltage regulator to the fully rebuilt AC compressor and reproduction Autolite Sta-Ful battery are present and accounted for. And the road-ready small block is fast, potent and runs every bit as good as its brilliant Ford Blue paint assembly line fresh markings suggest!
Naturally, given its frame-up restoration, the bottom of this cool Ford looks exactly how you'd expect a well-maintained road warrior to look. Behind the motor an original wide ratio 4-speed transmission spins a durable Ford nine inch rear end and correct 3.25 gears via a driveshaft that, judging by its factory chalk marks, appears to be factory equipment. Holding that drivetrain off the ground is an old school Competition Suspension which makes good use of a mandatory steering cooler, a thicker front sway bar, stiffer springs and staggered rear shocks. Above that suspension, solid original floor pans still retain some of their mild factory undercoating. At the ends of that suspension, optional power steering combines with optional power front disc and rear drum brakes, and a lightly weathered gas tank to make turning, stopping and accelerating an absolute cinch. In the middle of the floors, a factory true dual exhaust system sends roasted dinosaurs from restored manifolds to an H-pipe crossover and great sounding dual chamber Flowmaster mufflers. And at the edge of the floors, power flows to the pavement through familiar 15 inch Magnum 500 wheels which spin meaty 235/60 Goodyear Eagle GT IIs around galloping horse center caps.
Between the doors, a correct Bright Blue Lambeth cloth & White Corinthian vinyl interior nicely complements the car's awesome exterior paint. Everything from the seat foams and gorgeous red, white and blue seat covers to the blue carpet and heavy duty rubber floor mats appears to have been replaced during the restoration. The clean dash is loaded with rebuilt instrumentation, which includes a factory Philco radio, and features a blue pad that's as vivid and bright as the day the car rolled into the showroom. A small consolette frames a traditional chrome Hurst shifter at the floorboard. And a bright blue steering wheel combines with a white headliner, chrome accessory knobs and blue and white door panels to provide a fresh and appealing driving environment. Behind the interior, a completely restored trunk features a correct mat, correct lid decals a space saver spare tire and enough cargo space to make this pony capable of hauling more than ass. And like most first generation Mustangs, this Sprint's design and detailing is impressive proof that Ford had some of the best interior designers of their day.
The sale of this patriotic pony car includes both the aforementioned Marti Auto Works report, and a small packet of historic documentation that consists of original owner's manuals, warranty information and vehicle registrations from the first 30 years of the car's California life.
If you want some classic Detroit metal that has a ton of character and, unlike most muscle cars, retains a bit of exclusivity, this Sprint is your car. There's surely no more than a handful of these rock solid cruisers left, and finding one that's preserved to this level is next to impossible. Whether you're stepping out to a cool Friday cruise in or rolling up to a sunny Saturday parade, this Mustang, America's favorite pony car, is guaranteed attract fans, draw stares and earn you the coveted car guy salute!
At RK Motors Charlotte, our primary goal is to offer a buying experience unrivaled by anyone in the classic car industry. The core of that experience is a screening process we call the RKM Performance Center Seal of Approval. Performed by one of the ASE certified master mechanics in the RKM Performance Center, this 80+ point checklist ensures that every vehicle we offer meets our stringent standards.
While the Seal of Approval covers the basics, many customers want to take their cars to the next level. So, we created the RKM Performance Center Test & Tune and the RKM Performance Center Certification. From general functionality to comprehensive tuning and testing, these service packages let our customers tailor their buying experience.
When you visit our website,
www.RKMotorsCharlotte.com
/Sales, you'll see that every car carries three prices and each of those prices correspond a service package. Regardless if you are new to the classic car world or an experienced collector, our three-tiered pricing system allows for an honest and open sales environment. Simply put – no one in the industry works harder than RK Motors Charlotte to make sure your dream purchase is just that.