Thursday, November 28, 2013



Henry Ford and some close contacts founded the Ford Motor Company in 1903. The manufacturer built a popular car called the "Model A" and by 1909 Ford was the number one auto builder in America. Perhaps Ford Motor Company's single greatest contribution to automotive manufacturing was the moving assembly line. The line proved tremendously efficient, helping Ford Motor far surpass the production levels of their competitors and making the vehicles more affordable. Today, Ford Motor Company is a family of automotive brands including such names as Ford, Lincoln, and Mercury.

Click on a pic for a larger view.

2006 Ford Crown Victoria

2005 Ford Iosis Concept

1997 Ford GT Concept

2007 Ford Edge.

2002 Ford Thunderbird.

2003 Ford Thunderbird Sport

2004 Ford Faction Concept

1964 Ford
Galaxie 500 XL

2005 Ford Fairlane Concept

FORD CARS

"The Ford Mustang has been the icon of American performance since its 1964 introduction, popular for its bold style, rear-wheel drive performance and affordable price. The new 2005 Mustang represents a clean-sheet design, riding on an all-new platform. It's faster, more agile and better looking than ever. It rides smoother, The interior is beautifully done."


automobile.com




1968 Ford Mustang GT500

2005 Ford Mustang Concept

1956 Ford Thunderbird

2011 Ford Mustang GT

1956 Ford Fairlane Victoria

1926 Ford Model T

1975 Ford Mustang Cobra

2004 Ford GT

2004 Ford Crown Victoria




Make your Ford stand out among the other stock cars
with a new

Mustang billet grille

.
Posted by

Pw3680
at 4:56 PM
No comments:

Wednesday, November 20, 2013
• PlantBottle Technology™ from The Coca-Cola Company is applied for the first time beyond PET packaging as part of the interior fabric of a Ford Fusion Energi plug-in hybrid research vehicle
• The Fusion Energi research vehicle uses PlantBottle Technology for seat cushions, seat backs, head restraints, door panel inserts and headliners
• Fabric made from PlantBottle Technology consists of up to 30 percent plant-based materials, showing the broad potential of two global consumer icons to leverage renewable materials to help replace petroleum and other fossil fuels used for traditional PET fabric
The Coca-Cola Company and Ford Motor Company are fueling more sustainable design by collaborating on a first-ever interior fabric made from the same renewable material used to produce Coca-Cola's PlantBottle Technology™ packaging.The two companies today unveiled a Ford Fusion Energi plug-in hybrid vehicle with Coca-Cola PlantBottle Technology interior fabric surfaces covering seat cushions, seat backs, head restraints, door panel inserts and headliners. The research vehicle marks the first time PlantBottle Technology is applied beyond packaging, and affirms a joint commitment by two global consumer icons to develop innovative new products produced from renewable materials.
'By using PlantBottle Technology in a plug-in hybrid, Ford and Coca-Cola are showing the broad potential to leverage renewable materials that help replace petroleum and other fossil fuels, reducing the overall environmental impact of future vehicles,' said John Viera, global director of sustainability and vehicle environmental matters at Ford.The collaboration also demonstrates the positive influence that comes from combining two of the most recognizable and respected brands in the world. The Cola-Cola Company and Ford Motor Company together reach billions of consumers in more than 200 countries on six continents.The Ford Fusion Energi research vehicle will be on display later this month at the Los Angeles Auto Show.The idea behind the vehicle was launched last year when Ford and Coca-Cola research teams came together to explore innovation opportunities in more sustainable products. Both companies use PET, a durable, lightweight plastic also known as polyethylene terephthalate, in a variety of products including plastic bottles, fabrics and carpets. This provided a natural opportunity to bring together both recyclable and renewable technologies.Since The Coca-Cola Company introduced PlantBottle Technology to the market in 2009 as the first-ever recyclable PET plastic bottle made partially from plants, more than 18 billion PlantBottle packages have been distributed in 28 countries resulting in more than 400,000 barrels of oil saved. If PlantBottle interior fabrics were migrated across the majority of U.S. Ford models, it would displace nearly 4 million pounds of petroleum-derived materials, as well as save the equivalent of 295,000 gallons of gasoline and 6,000 barrels of oil.'This collaboration with Ford demonstrates that PlantBottle Technology can be applied anywhere PET plastic is traditionally used, but with a lighter footprint on the planet,' said Scott Vitters, general manager, PlantBottle packaging platform, The Coca-Cola Company. 'We are pleased to share this technology with Ford, and look forward to continuing to expand the application of PlantBottle Technology.'The PlantBottle-Fusion Energi initiative is also encouraged by the World Wildlife Fund, which advises companies to look for alternatives to fossil fuels.'The Coca-Cola Company and Ford Motor Company partnership is a great example of how collaborations can help scale up positive changes to benefit the environment,' said Erin Simon, manager, business and industry, packaging and material science, World Wildlife Fund. 'This atypical partnership is a great model for other businesses to follow, and can have a measurable impact on critical environmental issues.'Building upon the success of PlantBottle Technology, Ford has been able to produce the first-ever fiber that can be woven into durable, automotive-grade PET fabric from PlantBottle material. Fusion Energi, a plug-in hybrid version of Ford's global midsize car, was determined to be the perfect vehicle on which to test out the material.Fusion Energi is Ford's most fuel-efficient sedan. It boasts an EPA-rated total range of up to 620 miles and can drive up to 21 miles in electric-only mode – which could help save customers an estimated $6,850 in fuel costs compared with an average new car over the course of five years. It offers the latest generation of SmartGauge® with EcoGuide, designed to monitor and influence driving behavior to improve vehicle efficiency and help drivers get the most from their car.PlantBottle Technology material integration builds on the current 2014 Ford Fusion's environmental innovations – innovations that showcase a variety of more sustainable materials throughout the car, including:• Sound-absorbing denim material equivalent to more than two average-sized pairs of blue jeans in the car's carpet liner.
• Material equivalent to 38.9 clear-plastic 16-ounce recycled bottles in select cloth-seat Fusion models
• About 31,250 soybeans in the foam found in Fusion seat cushions. Today, Ford uses soy foam in every vehicle built in North America. Since its first application in 2007, the use of soy foam by Ford has reduced petroleum production by more than 5 million pounds and carbon dioxide emissions by 20 million pounds annually
About Ford Motor Company
Ford Motor Company, a global automotive industry leader based in Dearborn, Mich., manufactures or distributes automobiles across six continents. With about 180,000 employees and 65 plants worldwide, the company's automotive brands include Ford and Lincoln. The company provides financial services through Ford Motor Credit Company. For more information regarding Ford and its products worldwide, please visit
corporate.ford.com
.
About The Coca-Cola Company
The Coca-Cola Company (NYSE: KO) is the world's largest beverage company, refreshing consumers with more than 500 sparkling and still brands. Led by Coca-Cola, one of the world's most valuable and recognizable brands, our Company's portfolio features 16 billion-dollar brands including Diet Coke, Fanta, Sprite, Coca-Cola Zero, vitaminwater, Powerade, Minute Maid, Simply, Georgia and Del Valle. Globally, we are the No. 1 provider of sparkling beverages, ready-to-drink coffees, and juices and juice drinks. Through the world's largest beverage distribution system, consumers in more than 200 countries enjoy our beverages at a rate of more than 1.8 billion servings a day. With an enduring commitment to building sustainable communities, our Company is focused on initiatives that reduce our environmental footprint, support active, healthy living, create a safe, inclusive work environment for our associates, and enhance the economic development of the communities where we operate. Together with our bottling partners, we rank among the world's top 10 private employers with more than 700,000 system associates. For more information, visit Coca-Cola Journey at
www.coca-colacompany.com
, follow us on Twitter at
twitter.com/CocaColaCo
, visit our blog, Coca-Cola Unbottled, at
www.coca-colablog.com
or find us on LinkedIn at
www.linkedin.com/company/the-coca-cola-company
.
With Self-Parking Technology and Obstacle Avoidance Capability, Ford Edge Concept Is Tomorrow's Utility Today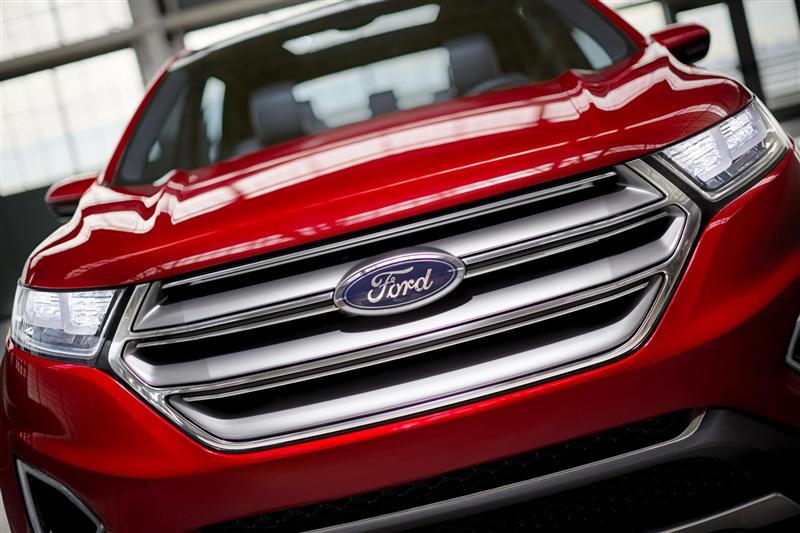 •Ford Edge Concept revealed today at Los Angeles

Auto

Show offers strong hints at the technology, dynamic design and premium craftsmanship that will define the company's next global utility vehicles
•Advanced, automated driving technologies include self-parking and obstacle avoidance systems currently under development by Ford; these technologies preview a future of semi- and fully autonomous driving options, delivering tomorrow's technology today

•Sleek exterior design communicates athleticism, confidence and capability; interior finished with premium materials and craftsmanship surpassing segment expectations

•Ford utility

vehicles

will be America's best-selling utility brand for three straight years in 2013, outpacing the nearest competitor by 32 percent through October of this year

Ford, the company that defined the crossover utility

vehicle

segment, today introduced new automated driving technologies in the Ford Edge Concept. The technologies include a push-button and remote-operated parking feature customers could use from either inside or outside the vehicle.

'The original Ford Edge offered customers in North America a fresh, compelling choice for an accommodating, efficient and safe medium utility vehicle,' said Joe Hinrichs, executive vice president and president of The Americas, Ford Motor Company. 'The next-generation Edge – previewed in the Ford Edge Concept – will build on these cornerstones to create a global vehicle with technology to make life easier, and design and craftsmanship to appeal to customers around the globe.'


Key attributes of the Ford Edge Concept – a sleek, sporty appearance; capability;

fuel efficiency

; and technology that assists the driver – are in line with what customers value around the world, which is driving global growth in the utility vehicle segment.

Data provided by IHS

Automotive

indicate global utility vehicle sales grew 45 percent between 2007 and 2012. The utility segment now accounts for more than 13 million sales annually – 17 percent of the global automotive market.

Vital Stats




---
U
tility vehicle sales in China are projected to grow significantly, by more than 100 percent from 2012 to 2017, according to IHS Automotive. In South America the utility Segment is projected to grow 39 percent, and in Europe it is projected to grow 27 percent over the same period.
The current Ford Edge remains a Segment sales leader in the United States. Edge is especially well-received in Southern California, where it accounts for nearly one in four sales this year of five-passenger medium
utility vehicles
. With market share of 23 percent, Ford Edge is the best-selling five-passenger utility vehicle in Southern California, according to Ford analysis of retail registration data from R.L. Polk.
Moreover, U.S. Ford-brand utility sales overall are up 12 percent through October compared to last year, and Ford utility vehicles will be America's best-selling utility brand for three straight years in 2013, as it is outpacing the nearest competitor by 32 percent through October.
Advanced features to make smarter vehicles and better drivers

Driver-assist technologies and semi-automated features in Edge Concept hint at a future offering even more intelligent and capable vehicles from Ford. These sensor-based technologies form the building blocks for the future of automated driving, and will help make driving safer and

more efficient

.


'The rate of change in vehicle technology right now is unprecedented,' noted Raj Nair, Ford group vice president of global product development. 'Our engineers around the world are advancing the systems that will ultimately help make drivers smarter, safer and more efficient. From advanced engine systems to collision avoidance and automated driving systems, Ford will continue to lead in delivering the technologies consumers want and need.'

Fully assisted parking aid, a prototype technology, lets customers park their vehicles at the touch of a button, or even by remote control. The concept builds on Ford's current active park assist feature. It can find a perpendicular parking space using ultrasonic sensors. From inside, the driver pushes a button to activate the system; from outside the vehicle, fully assisted parking aid can be remotely activated, allowing customers to wait until the vehicle has pulled out of a tight parking spot before entering.

Using similar sensor and automated vehicle control technology, Ford has also begun a research project designed to refine advanced obstacle avoidance systems. In this case, the research and development vehicle is able to issue warnings if it detects slow-moving or stationary obstacles in the same lane ahead. If the driver fails to steer or brake following the warnings, the system will automatically steer and brake the vehicle to avoid a collision.


Adaptive Steering, another new technology from Ford featured on Edge Concept, makes Steering at low speeds dramatically easier, and Steering in all conditions feel more confident and engaging. The technology, which builds on Ford's electric power-assisted Steering system, controls the relationship between how much the driver turns the wheel and how much the road wheels turn. This means that low-speed Steering – such as pulling into or out of a parking space – requires much less turning of the wheel.

Tomorrow's technology available today

Developing technology that can help people around the world feel more confident and secure is a high priority for Ford. Ford Edge Concept features many of the automated driver-assist technologies – the building blocks to fully automated vehicles of the future – that the company offers on its global products today. These include:

•Active park assist, which can ease the stress of parallel parking by using sensors and the steering system to guide a vehicle into a parking spot; the driver controls the gas and brake pedals. Available on 12 Ford models today

•Lane-Keeping System, which uses a forward-facing camera that can scan the road surface for lane markings. The system can evaluate if the vehicle is drifting out of its lane and then alert the driver by vibrating the §teering wheel. If the driver does not respond to the vibrations, the system provides §teering torque to nudge the vehicle back toward the center of the lane. Available on 11 Ford models today

•Adaptive cruise control and collision warning wîth brake support, which uses radar to detect moving vehicles immediately ahead, and can modify cruising speed if necessary. Available on 10 Ford models today

•Blind Spot Information System, which uses radar sensors in the rear corners that monitor the spaces next to and just behind the vehicle. On the road, these sensors trigger a warning light in the mirror when there is another vehicle in the driver's blind spot. Available on 13 Ford models today

Sleek, athletic exterior design defines Ford Edge Concept

The technologies in the Ford Edge Concept complement the vehicle's exterior design, which is carefully sculpted, fluid and athletic. The side view is highlighted by a D-pillar line that comes down the rail, takes a jog and returns.


Strong shoulders on Ford Edge Concept add to the feel and appearance of a runner in the starting blocks. The rearward slope of the grille influences the shape of the hood, which is both muscular and more compact. In a unique execution, the three-bar grille is connected to LED headlamps in a premium fashion.

To aid the fuel efficiency of a next-generation EcoBoost® engine with start-stop technology, the Edge Concept has a new high-tech application of Active Grille Shutters. The shutters automatically open and close to maintain ideal engine operating temperature and maximize aerodynamic efficiency. When activated, a panel slips down from above, then two more move into place, appearing as if they radiate from the Ford oval. The brighter finish gives a stunning contrast to the black background.

To improve efficiency further, unique air curtains are positioned on the lower part of the fascia. The air curtains and ducting are designed to guide air from the front of the vehicle, out through the front wheel wells and down the vehicle side.

LED lighting is used on both the headlamps and tail lamps of the Ford Edge Concept.

Functional and decorative design elements combine to create a stunning display – these technical graphics are a hallmark of modern Ford design. The headlamps light up in complete white, creating an uninterrupted, homogeneous display. Individual LED's light up crystal cubes on the high beams.

The turn signal transforms from a chrome-appearing piece into bright amber, lit from behind through microscopic holes in the bezel, adding to the laser-thin appearance of the headlamps. The tail lamps are executed in a similar fashion, cleverly and stylishly connected to the backlight.

The exterior is painted in Copper Flame, a modern interpretation of a premium color currently popular on Ford cars.

Elevated craftsmanship, elegant colors and rich materials

The interior of Ford Edge Concept is open and airy, with a level of craftsmanship and material quality that consumers around the world will appreciate.

'We wanted the interior to be consistent in its dynamic character with the exterior of the Ford Edge Concept,' said Hak Soo Ha, interior design manager. 'We call the interior environment Dynamic Sanctuary, because it combines the energetic character of the exterior with a more premium cabin execution. The shapes provide a dynamic, in-motion impression that soothes rather than fatigues.'

Premium interior elements include:

•Leather-wrapped and hand-stitched instrument panel
•10-inch touch screen center display with MyFord Touch®
•Dynamic center stack with premium mechanical switchgear
•Unique gear shifter
•Bright work on the armrest, door-release bezel and air registers
•Floating binnacle top
•Unique steering wheel
•Scuff plate with bright silver finish, matte black paint and LED-lit 'Edge'

High levels of craftsmanship and rich materials unify the interior of Ford Edge Concept. Copper is used as the accent color in the carpet, instrument panel and other areas for its premium appearance, complementing the exterior paint color.

Premium black Nubuck wraps the upper instrument panel, center console and door elements, enhanced by elegant stitching. The heavy, oiled-grain texture has a feel similar to leather used on high-end furniture; this is juxtaposed with smooth leather on the touchpoints.

The vehicle's leather seats are executed with a distinct perforation pattern, as well as premium stitching and accent plating in the head restraint and top of the shoulder bolster.

'The Ford Edge Concept is the latest example of a utility vehicle that delivers the attributes global customers value most – design, fuel efficiency, driving dynamics, and customer-focused technology to help the driver feel more confident,' said Hinrichs.
Source - Ford
Posted by

Pw3680
at 3:02 PM
No comments:

Thursday, November 7, 2013
Doug & Phyllis Wilson's 1930 Model A Roadster ....... Friends from Kentucky USA
Another shot of Doug's 1930 Model A Roadster
Here is a radiator rock guard accessory
The little "doors" on the side of this Model A of Doug Wilson's is a rare accessory.
Showing the luggage rack
Model A Ford Club of South Australia
Source:
gawler.homestead.com
Posted by

Pw3680
at 3:14 PM
No comments: